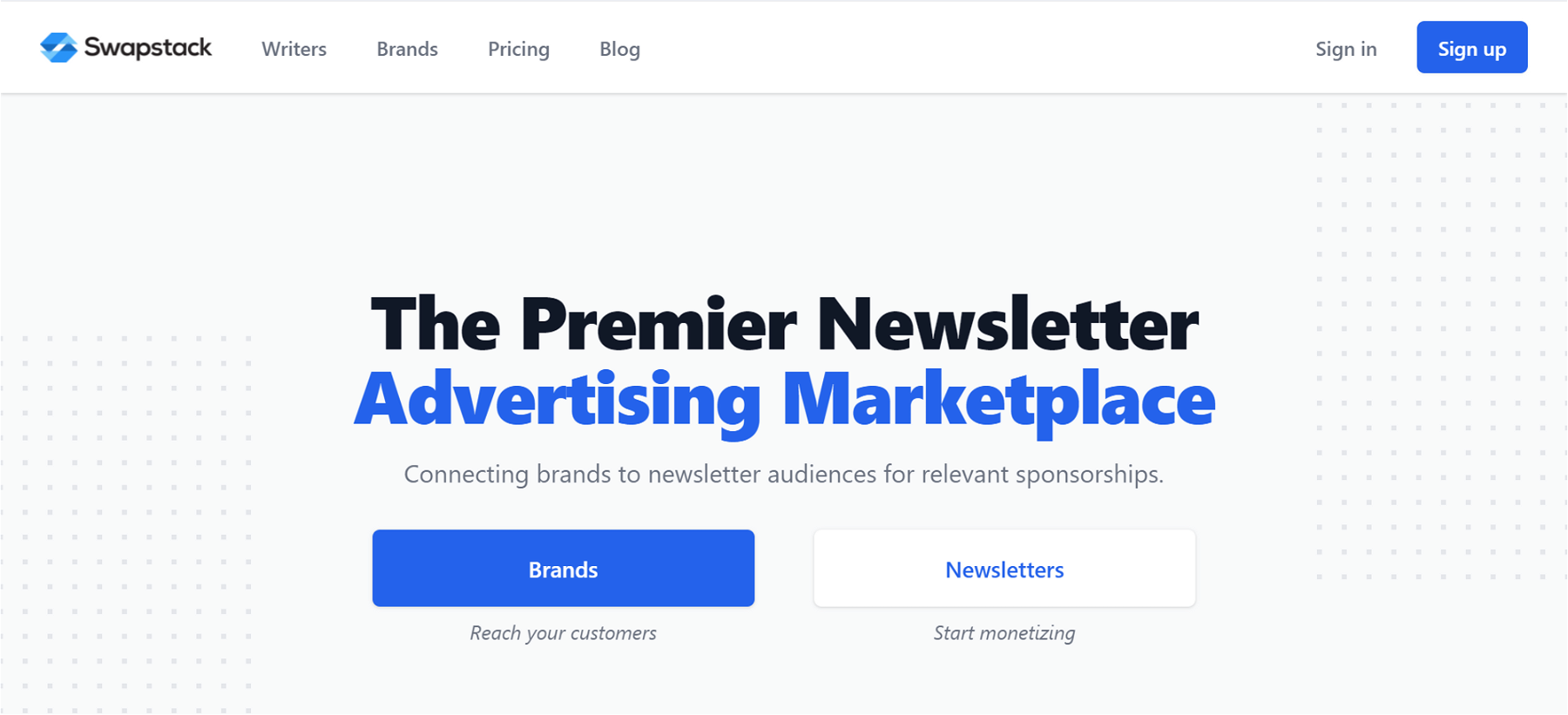 A newsletter is a powerful weapon for every writer and curator. If you haven't got one, this is the best time to start. Why? Ping me so I can convince you. But, one of the reasons is that it could eventually be turned into a reliable source of income. I've never imagined I could monetize my newsletter but I did!
I got my first sponsor via Swapstack and I've never looked back. I love helping brands reach their potential users but also help my readers find cool new tools to try and find their next favourite brand.
Swapstack
makes this possible by connecting brands to newsletters.
👍 Advantages of finding sponsors via Swapstack:
NO FEES for Newsletter Writers! Yes, you heard me right. They charge platform fees to brands so you get to keep 100% of your earnings.
They offer a Slack community for writers with over 1,000 subscribers to meet, learn from each other and swap cross-promotions.
You can utilize their Plug & Play feature when you don't have sponsors or classified slots. You never have to send an issue without a sponsor!
Personalized intros with your favourite brands.
Built-in invoices and they're powered by Stripe!
Live external page for your newsletter. Design it to your heart's content. 

See mine

.
Personalized recommendations to send pitches to brands that align with your newsletter.
🛠 Check out few writers who have built their sponsorship page with Swapstack:
Nowadays, my favourite thing to do is stalk some amazing newsletter writers to check out their sponsorship pages. I always learn something useful that I can implement for my newsletter. Here are my recommendations:
Be Your Best Friend with Anangsha - Observe how Anangsha goes beyond her newsletter to land sponsors.
Ness Labs - Observe how they package a sponsorship with their reach on social media.
Stacked Marketer - The most common sponsorship page.
👍 Advantages for brands using Swapstack:
Swapstack connects you with relevant newsletters so you can reach their high engagement, high specificity audiences.
Auto approves hundreds of newsletters for affiliate marketing.
Simple, transparent pricing.
👎 Limitations:
Honestly, I love almost everything about this platform. Swapstack is still evolving and they're making sure to serve their users with the best features possible. However, there's a lot of room for improvement. As an Intern, I intend to help the team with the features and give you the best experience. :)
Swapping Newsletter cross-promotions. I wish they had a built-in feature to connect with other newsletters.
Blog articles to ensure the writers are using the best newsletter tools.
✨ Similar websites to explore:
Hecto

 - Reach your target market, through trusted newsletters.